This week had been filled with lots of appointments and lots of fun too - busy busy, just how I like it. I've misplaced my calendar in my move home, so I'm falling apart a little bit without it. I keep both a day planner and a calendar, and when they're out of
sync
, everything becomes scattered. I really need to start unpacking.
Spent yesterday with my lovely mother. We had afternoon tea and then went to some thrift stores and a Chinese market. I got a coconut-taro bubble tea with tapioca, which may be one of my favourite things, though I can never finish more than 1/4 of it.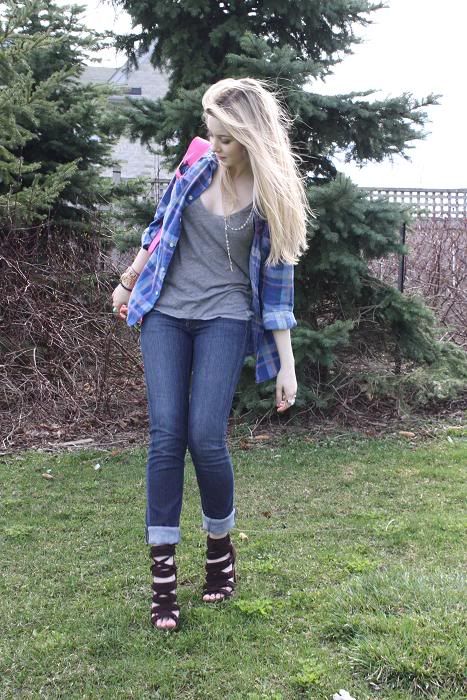 This look is inspired by Alex Wang's concept of "M.O.D". Wearing a
thrifted
plaid shirt,
Abercrombie
tank, Habitual Jeans and Jeffrey Campbell shoes. I've had these jeans for something like 5 years, and even though they're 2 sizes smaller than the size I wear now, they still seem to fit, I love how I've worn them in - I can hardly believe they used to be a dark indigo.
I'm also excited about my new bag. I'm not really a bag person - I get excited by shoes and clothes, but I came across this Joe Fresh bag which is exactly what I need - it can carry a litre of water, 4 magazines and my Canon Rebel comfortably. Perfect.
p.s.
for those of you who asked about shiny eyelids - I never noticed it before but I'm glad you like it! My "secret" is to rub
Carmex
on my eyelashes before I put on mascara and eyeliner. The wax sticks my eyelashes up so I don't have to curl them before mascara (I'm convinced curlers are terrible for your lashes), and also makes it easy to line my eyes b/c the pencil just glides along. I guess the residue makes my lids shiny as a result!